U_CODE - Urban Collective Design Environment
U_CODE ist eine neue Beteiligungsplattform für Bürger, Stadtplaner und Architekten. Mit U_CODE kann jeder zum Mitgestalter seiner Stadt und Nachbarschaft werden - und mit neuen digitalen Werkzeugen seine kreativen Ideen einem großen Publikum mitteilen. // With the participation platform U_CODE citizens can create together with planners and architects new concepts for the urban environment. With U_CODE everybody can become co-designer of the city – and share own creative ideas with a large audience.
Aktuell: Bürgerbeteiligung Fritz-Foerster-Platz, Dresden
Ab Juni 2020 wird U_CODE im Beteiligungsverfahren zum Fritz-Foerster Platz in Dresden eingesetzt. Das Verfahren soll aufzeigen, wie sich die Stadtgesellschaft die künftige Gestaltung des Fritz-Foerster-Platzes als Eingangsbereich zum Campus der TU Dresden, als Verkehrsknotenpunkt und als Teil einer zukünftigen Stadtbahntrasse vorstellt. Mit U_CODE sollen Wünsche und Erwartungen zur Nutzung und Gestaltung des Stadtraums gesammelt und neue Ideen gefunden werden, wie der Stadtraum weiterentwickelt werden soll.
// From June 2020, U_CODE will be used in the participation process for the Fritz-Foerster Square in Dresden. The process is intended to show how the civic society envisions the future Fritz-Foerster-Platz as an entrance to the TU Dresden campus, as a transport hub and as part of a future tram route. For the area between Zellescher Weg, Einsteinstraße and Hochschulstraße. U_CODE is intended to collect wishes and expectations regarding the use and design of the urban space and to find new ideas on how the urban space should be further developed.
Vision
Für die Konzeption urbaner Räume bringt U_CODE die verschiedenen Interessengruppen kreativ und effizient zusammen. Mit einer digitalen Toolbox können Tausende Bürger sich mit Informationen und Hinweisen, aber auch mit eigenen Design-Ideen einbringen. Diese werden vom System ausgewertet und für die Weiterbearbeitung z.B. durch Fachplaner und Behörden aufbereitet. // U_CODE enables a wide range of stakeholder groups to creatively and efficiently involve themselves in the design of urban spaces. With a digital toolbox, thousands of citizens can contribute information and advice, but also own design ideas. The U_CODE system analyses these inputs and prepares them for further usage e.g. by specialist planners and public authorities.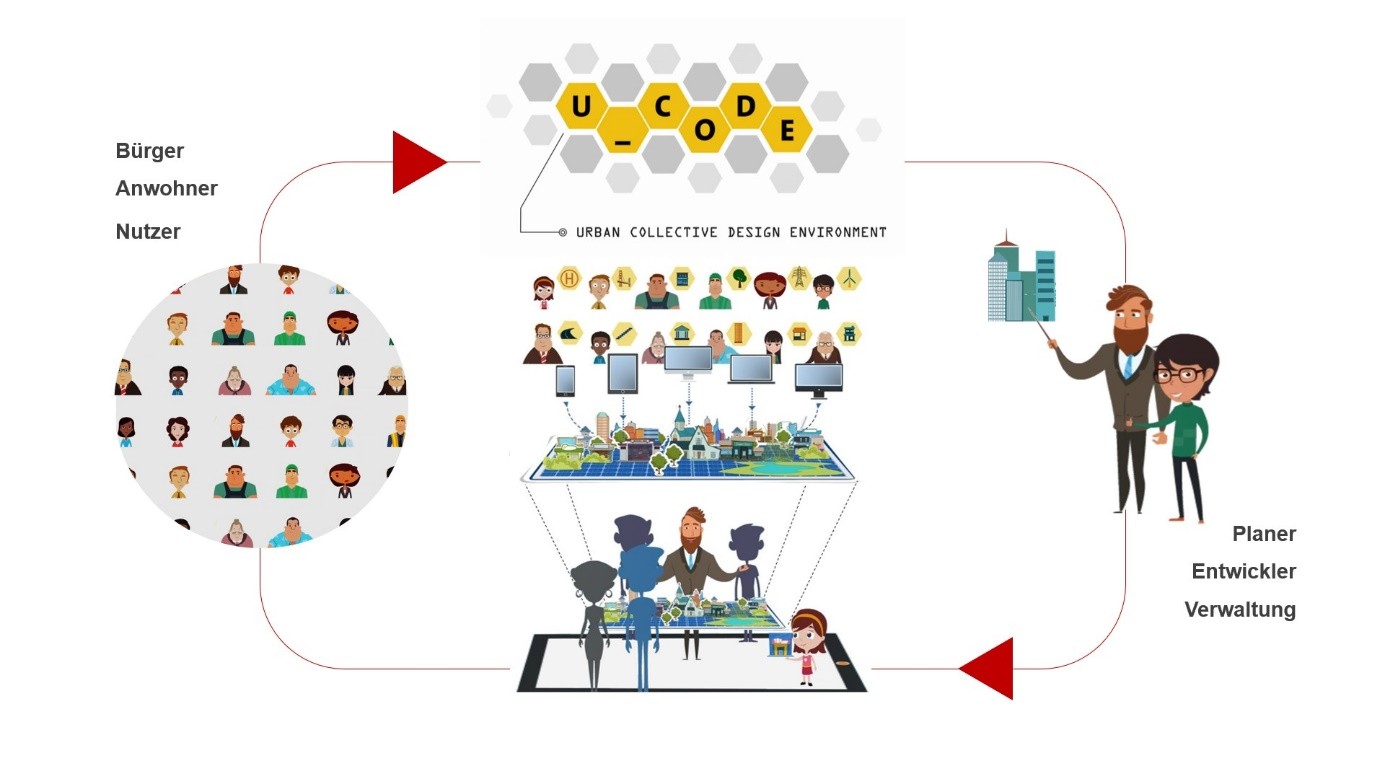 So funktioniert´s / How it works
U_CODE Kampagnen umfassen drei Schritte. Im ersten Schritt "Online Wissenskampagne" werden Beteiligte in einer Online-Befragung eingeladen, wichtiges Hintergrundwissen zum Projekt beizusteuern. Auf dieser Grundlage können dann im zweiten Schritt "Online Co-Design" alle Interessierten mit einem online Designwerkzeug eigene Gestaltungsvorschläge erstellen und öffentlich präsentieren. Die überzeugendsten Ideen werden in der dritten Phase "Co-Design Workshop" vor Ort in einer Planungswerkstatt verfeinert. Hier können die Teilnehmer an einem interaktiven Planungstisch, im virtuellen Raum oder mit 3D Druck die eigenen Konzepte weiterentwickeln. Die Ergebnisse der drei Schritten werden abschließend als Inspiration und Ideensammlung für die weitere Planung an Fachplaner und Behörden übergeben. // U_CODE campaigns consist of three steps. In step 1 "Online Knowledge Campaign", participants are invited to an online survey to contribute important background knowledge about the project. In step 2 "Online Co-Design", participants can create their own design proposals with an online design and presentation tool. The most convincing ideas will be refined in step 3 "Co-design Workshop" in a local planning workshop. Here, participants can further refine their concepts at an interactive planning table, in virtual space or with 3D printing. The results of all three steps will be passed on to specialist planners and authorities as inspiration and idea collection for further planning.
| | |
| --- | --- |
| | |
Forschungs- und Innovationsprojekt / Research & Innovation Project
U_CODE wurde 2019-2020 im Rahmen eines großen EU-Projektes unter Leitung des WISSENSARCHITEKTUR Laboratory of Knowledge Architecture an der TU Dresden entwickelt. Partner waren unter anderem die TU Delft, der Branchenverband Silicon Saxony, die IT Firma Oracle und das Planungsbüro gmp Architekten von Gerkan, Marg und Partner. Im Projekt wurden die neue Methode als auch innovative Digitalwerkzeuge entwickelt und getestet, bevor diese in der Praxis überführt wurden. // U_CODE was developed in 2019-2020 within a large EU project led by the WISSENSARCHITEKTUR Laboratory of Knowledge Architecture at TU Dresden. Partners included the TU Delft, the industry cluster organisation Silicon Saxony, the IT company Oracle and the design office gmp Architects von Gerkan, Marg and Partner. In the project, the new method as well as an innovative digital toolbox were developed and tested before they transferred to practical application.
https://cordis.europa.eu/project/id/688873
www.tu-dresden.de/wa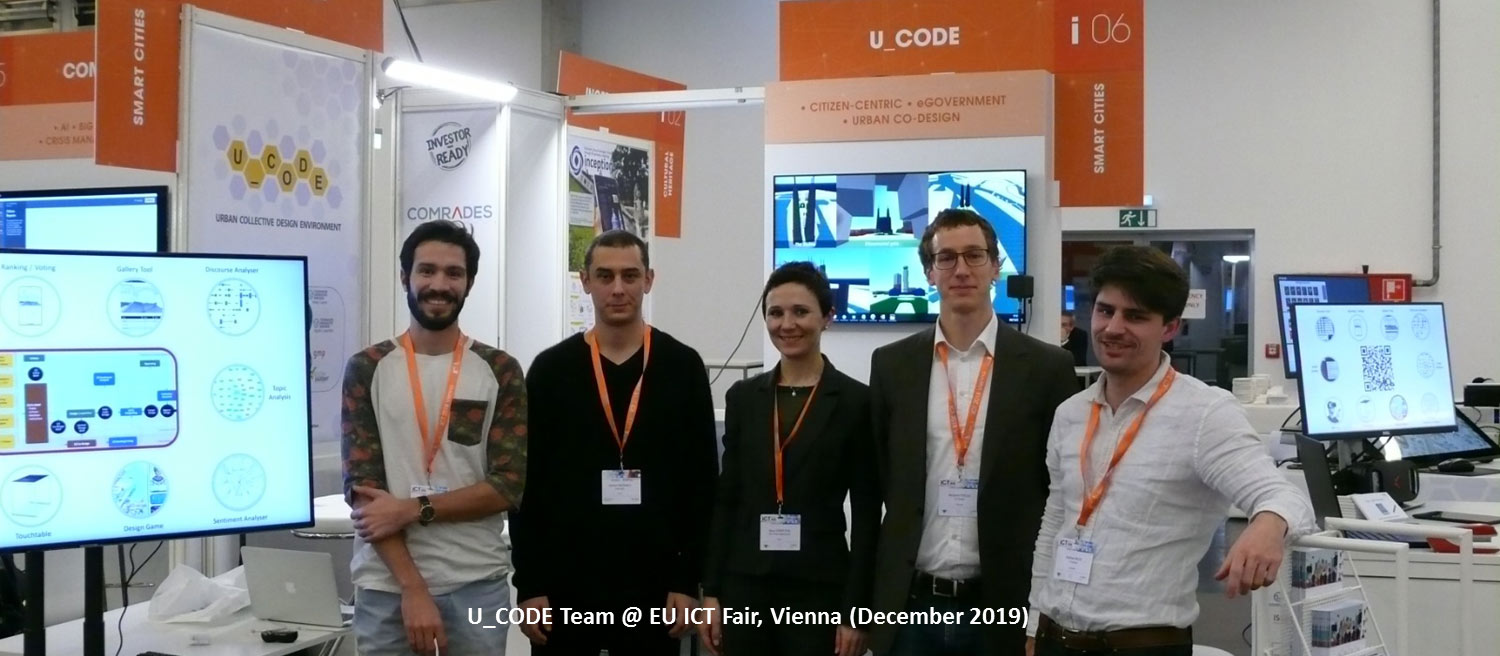 Anwendungen / Applications
Die im EU Projekt U_CODE erarbeitete Lösung wurde seit 2019 in verschiedenen Praxisprojekten erprobt und weiterentwickelt. Die Projekte reichen von der Neuplanung eines Förderschulcampus in Thüringen bis hin Anwendungen in asiatischen Megacities. Im November/ Dezember 2019 wurde in Kooperation mit dem Smart Cities Programm der indischen Regierung ein Beteiligungsverfahren zur Verbesserung der Lebens- und Wohnbedingungen in der indischen Großstadt Pimpri Chinchwad durchgeführt. Ab Sommer 2020 läuft in Dresden das Beteiligungsverfahren zur Neugestaltung des Fritz Foerster-Platz. Im Juni 2020 wurde U_CODE als Finalist im Ausschreibungsverfahren zum künftigen Beteiligungssystem der Stadt Wien nominiert. // The solution developed in the EU project U_CODE has been tested and developed in various practical projects since 2019. The projects range from the new planning of a special school campus in Thuringia to applications in Asian megacities. In November / December 2019, a participation process was carried out in cooperation with the Smart Cities Program of the Indian government to improve living and housing conditions in the Indian city of Pimpri Chinchwad. The participation process for the redesign of Fritz Foerster-Platz will start in Dresden in summer 2020. In June 2020 U_CODE was nominated as a finalist in the tender process for the future participation system of the City of Vienna.
| | |
| --- | --- |
| | |
U_CODE in India: https://www.youtube.com/watch?v=2nwTy74P5rw
Legal Notice
The U_CODE internet presence consists of various websites of the university institutions.The legal notice of TU Dresden applies with the following changes.
Point of contact:
Prof. Jörg Rainer Noennig
Joerg.Noennig@tu-dresden.de
TU Dresden
WISSENSARCHITEKTUR Laboratory of Knowledge Architecture
01062 Dresden
Germany
Site administration:
Torsten Holmer torsten.holmer@tu-dresden.de
TU Dresden
WISSENSARCHITEKTUR Laboratory of Knowledge Architecture
01062 Dresden
Germany
Data protection:
As a public body, the laboratory of Knowledge Architecture is subject to the stipulations of the Saxon Data Protection Law (SächsDSG), in addition to the relevant statutory provisions and regulations concerning protection of the right of self-determination with regard to personal information.
To protect your relevant rights, we have implemented technical and organisational measures to ensure that the regulations governing data protection within the Dresden University of Technology are also observed by external service providers where the latter contribute to our website.
Your data may only be processed to the extent permitted by specific legislation or where your consent has been granted.
The data protection declaration of TU Dresden applies.
---
This project has received funding from the European Union's Horizon 2020 research and innovation programme (grant agreement no.: 688873, project duration: 02/2016 – 07/2019)