Database of Participation Methods in Urban Development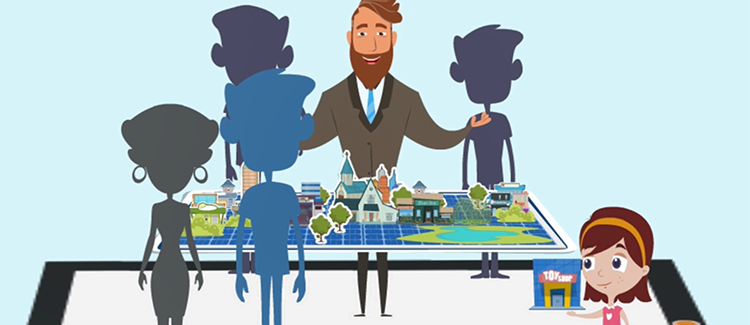 Table of Contents
1. Approach to categorizing tools & methods
In literature on public participation, different levels of citizen's impact on final decisions during urban design processes are mentioned. The International Association of Public Participation (IAP2) describes 5 Levels of participation: inform, consult, involve, collaborate and empower. However, for the purpose of classifying existing tools and methods, this model was simplified to 4 labels like you can see in the following table. A reasoning for simplification is provided in the paragraphs below.
| Category | Information | Consultation | Collaboration | Empowerment |
| --- | --- | --- | --- | --- |
| Description | Citizens inform themselves or are being informed of current plans, decisions and actions | Citizens are asked to give input and feeback (e.g. User‐Centered Design) | Citizens and other stakeholders actively work together in decision‐ making (e.g. Co‐Creation) | The authorities implement the decisions of the citizens |
| Relation | One‐way (Authorities to Citizens) | Limited two-way | Advanced two-way | One-way (Citizens to Authorities) |
2. Label 1: Information
The vast majority of sources include the strategy of providing the citizens with information or giving them the possibility to inform itself as a first step of citizen participation; that can be accomplished in different ways, e.g. by publishing proposals of new urban projects or explaining their regional impact. On the informational level, citizens are not able to reply on that input, that is why this state can be described as one‐way communication (Arnstein, 1969) or one‐way relationship (OECD, 2001). Hence, informing the citizens has to be seen as public participation on a very low‐level. Informing is not labeled as a Ucodesign activity, however it is a mandatory parallel activity in order to deliver effective Ucodesign activities.
3. Label 2: Consultation
A broader form of public participation that goes beyond mere information is achieved when the public is consulted in urban design matters. Consultation generally means that public input and feedback is collected and taken into consideration during the planning process (e.g., IAP2, 2013). In that way, citizen's concerns, aspirations and ideas have the chance to be taken into account in decision‐making. For instance, existing opinions or ideas that derived from the public can be taken into account. On this level, citizens are also given the chance to act as local experts as they are able to contribute valuable information to the planners. However, it depends on the planner's decision whether to include this kind of information. For example, User‐Centered Design activities would be labeled as "consultation".
4. Label 3: Collaboration
In literature, the next dimensions of participation are often named involvement or, on an even higher stage, collaboration with the public. Compared to the first rungs information and consultation, these two categories are more difficult to distinguish clearly, because both are used to pronounce a certain extent of cooperation between the public and the other stakeholders (e.g., IAP2, 2013). Whereas involvement is described as directly working with the public and reflecting their concerns throughout the process, collaboration goes a step farther by stressing a partnership between citizens and professionals in which citizens advice is being implemented "to the maximum extent possible" (e.g., IAP2, 2013).
For a sharper distinction and a more distinct categorization of methods, it is advisable to summarize these aspects in one category that will be subsequently called collaboration. Collaboration in this sense means that citizens directly contribute to the process of urban design by discussing ideas, developing solutions and creating alternatives by deep interaction with other stakeholders. In contrast to consulting, the communication between all participants is rather intensive, citizens and planners treat each other as partners that leads to fruitful exchange, dialogue and deliberation. Collaboration therefore needs elaborated channels for stakeholder interaction and an exceptionally open‐minded attitude of experts and planners. Participatory Design‐ as well as Co‐Creation activities would be labeled as "Collaboration".
5. Label 4: Empowerment (excluded from in‐depth tools and methods review)
The highest impact of the citizens in regard to participation in urban design is often termed as the empowerment of the public (e.g., IAP2, 2013; Tufte & Mefalopulos, 2009). Extensive understandings of this dimension demand the citizens to be in full control of decision making (e.g., IAP2, 2013). This status can be seen as a kind of ideal type that is nowadays hard to achieve but nevertheless desirable to improve public participation in urban processes. A referendum is an example of reaching this extent of citizen power in matters of urban design. For a complete overview of the different stages of public participation, the category of empowerment is vital, but was excluded from the tools and methods review for three reasons. Firstly, there are only limited methods available in this category. Secondly and more importantly, is that empowerment is typically about 1‐way communication (from citizens to professionals) and therefore not an example of Ucodesign which is a joint effort of professionals and citizens. Thirdly, developing tools for empowerment is complex and may conflict with some legislation in the different European countries.
6. Categorization of participation tools and methods in urban planning
The following picture gives an overview of the categorization of currently known methods that try to foster public participation in urban design processes and, as mentioned above, it thereby distinguishes between the categories of "informing", "consulting", "collaborating" and "empowerment". Just click to enlarge the picture.

7. Method bank
This database contains over 70 methods for public participation. You can search by using dropdown menus for the name of the process, the category and subcategory, if the tool is available for online participation and the number of participants. Moreover you can use a search form for direct search. After choosing one of the entries you will get more information about this tool, like for example a short description, some references and about strengths and weaknesses.
| Category | Subcategory | Name of the process | Online? | mobile? | Number of Participants | Lenght of the process |
| --- | --- | --- | --- | --- | --- | --- |
| Consultation | Surveys, Polls & Votings | Activating interview | ✘ | ✘ | up to 100 | longer/ongoing |
| Information | Information Material (offline) | Advertisement - Bulletin/Poster | ✔ | ✘ | not defined | longer/ongoing |
| Consultation | Consultative Meetings | Conferences - Agenda conference | ✘ | ✘ | up to 100 | one day |
| Consultation | Surveys, Polls & Votings | Assessement Procedure | ✘ | ✘ | up to 500 | longer/ongoing |
| Information | Information material (online) | Social Media - Blogs | ✔ | ✘ | not defined | longer/ongoing |
| Consultation | Consultative Meetings | Brainstorming / Brainwalking | ✘ | ✘ | up to 25 | one day |
| Information | Information material (online) | Mailings / Newsletter | ✔ | ✘ | unlimited/more | one day |
| Consultation | Consultation (online) | Social Media (consulting) - Chat procedures / Online Dialogue | ✔ | ✔ | | |
| Consultation | Surveys, Polls & Votings | Citizen Council | ✘ | ✘ | up to 25 | longer/ongoing |
| Consultation | Surveys, Polls & Votings | Citizen Dialogue | ✘ | ✘ | up to 25 | one day |
| Consultation | Contests | Citizen Idea Contest | ✔ | ✘ | up to 100 | series of events over weeks |
| Consultation | Surveys, Polls & Votings | Citizen Panel | ✘ | ✘ | up to 25 | longer/ongoing |
| Information | Informational Meetings | Citizen Consultation-hour | ✘ | ✘ | up to 25 | one day |
| Information | Informative Meetings | City Walks | ✘ | ✘ | up to 25 | one day |
| Consultation | Consultative Meetings | Civil Forum | ✔ | ✘ | up to 100 | one day |
| Consultation | Consultation (online) | Crowdsourcing platforms (input based) | ✔ | ✔ | unlimited/more | longer/ongoing |
| Consultation | Contests | Competitional Dialog | ✘ | ✘ | up to 25 | one day |
| Consultation | Consultative Meetings | Conferences - Consensus Conference | ✘ | ✘ | up to 25 | two to four days |
| Consultation | Contests | Cooperative Competition Procedure | ✘ | ✘ | up to 25 | one day |
| Collaboration | Collaboration (online) | Crowdsourcing platforms (interactive) - Planning for real | ✘ | ✘ | not defined | series of events over weeks |
| Consultation | Data collection & analysis | Data Collection (passive) | ✔ | ✔ | up to 500 | longer/ongoing |
| Collaboration | Collaborative Meetings | Design Workshops (interactive) - World Café | ✘ | ✘ | unlimited/more | one day |
| Collaboration | Collaborative Meetings | Design Workshops (interactive) - Charette Procedure | ✘ | ✘ | not defined | two to four days |
| Consultation | Consultative Meetings | Dialog/Discussion | ✘ | ✘ | up to 25 | one day |
| Collaboration | Collaborative Meetings | Dynamic Facilitation Workshop | ✘ | ✘ | up to 25 | one day |
| Information | Information Points | Exhibition | ✘ | ✘ | not defined | longer/ongoing |
| Consultation | Consultative Meetings | Fish-Bowl | ✘ | ✘ | up to 25 | one day |
| Consultation | Surveys, Polls & Votings | Focus Groups | ✘ | ✘ | up to 25 | |
| Information | Informational Meetings | Huge Group Conference | ✘ | ✘ | up to 500 | one day |
| Consultation | Surveys, Polls & Votings | Interviews | ✔ | ✘ | up to 100 | one day |
| Consultation | Surveys, Polls & Votings | Koffee Klatsch | ✘ | ✘ | | |
| Consultation | Surveys, Polls & Votings | Letter Boxes | ✘ | ✘ | | |
| Collaboration | Mediation | Mediation | ✘ | ✘ | up to 25 | two to four days |
| Consultation | Data collection & analysis | Notification Tools (active) | ✔ | ✔ | not defined | longer/ongoing |
| Information | Information Material | Online Platforms | ✔ | ✘ | unlimited/more | longer/ongoing |
| Consultation | Consultative Meetings | Conferences - Open Space Conference | ✘ | ✘ | unlimited/more | two to four days |
| Collaboration | Collaborative Meetings | Participation Modell (TRIPLEX) | ✘ | ✘ | up to 500 | one day |
| Collaboration | Collaboration (online) | Participatory Budgeting | − | ✘ | | |
| Consultation | Surveys, Polls & Votings | Planning Cell / Citizen Report | ✘ | ✘ | up to 25 | two to four days |
| Collaboration | Collaborative Meetings | Planning Workshop | ✘ | ✘ | | two to four days |
| Information | Information material (offline) | Press - Press release / press conference | ✔ | ✘ | unlimited/more | one day |
| Information | Information material (online) | Project Websites | ✔ | ✘ | not defined | longer/ongoing |
| Consultation | Surveys, Polls & Votings | Reference panels | ✘ | ✘ | | |
| Information | Informational Meetings | Resident conference | ✘ | ✘ | up to 100 | one day |
| Information | Information Points | Roadshow | ✘ | ✘ | not defined | series of events over weeks |
| Consultation | Consultative Meetings | Round Table | ✘ | ✘ | up to 500 | two to four days |
| Consultation | Neighborhood Knowledge | Sensitizing | ✘ | ✘ | | |
| Collaboration | Collaboration (online) | Serious Gaming | ✘ | ✘ | up to 25 | one day |
| Consultation | Consultation (online) | Social Media (consulting) - Social Networks | ✔ | ✔ | | |
| Information | Information Points | Citizen information event | ✘ | ✘ | not defined | |
| Information | Stakeholder/Issue Mapping | Stakeholder / Issue Mapping | ✘ | ✘ | | |
| Collaboration | Collaborative Meetings | Visioning Workshops - Future Conference | ✘ | ✘ | up to 100 | one day |
| Collaboration | Collaborative Meetings | Visioning Workshops - Future Workshop | ✘ | ✘ | up to 100 | one day |
| Collaboration | Collaborative Meetings | Visioning Workshops - Scenario Technology | ✘ | ✘ | up to 25 | one day |
| Consultation | Surveys, Polls & Votings | Voting (Online) | ✔ | ✘ | unlimited/more | longer/ongoing |
| Information | Information material (online) | Social Media - Wikis | ✔ | ✘ | unlimited/more | longer/ongoing |
| Collaboration | Collaborative Meetings | Work Group/Task Force | ✘ | ✘ | up to 25 | series of events over weeks |
| Information | Information Material (offline) | Letters | ✘ | ✘ | up to 500 | one day |
| Information | Information Material (offline) | Publications | ✘ | ✘ | | |
| Consultation | Consultative Meetings | Remote Attendence | ✘ | ✘ | | |
| Consultation | Consultation (online) | Social Media (consulting) - Online Forums | ✔ | ✘ | unlimited/more | longer/ongoing |
| Consultation | Surveys, Polls & Votings | Citizen Survey | ✘ | ✘ | | |
| Collaboration | Collaborative Meetings | Visioning Workshops - Perspective Workshop | ✘ | ✘ | up to 500 | two to four days |
| Collaboration | Collaboration (online) | Collaborative Building Design Tools | ✔ | ✘ | | |
| Consultation | Displays / Exhibits (input based) | Displays / Exhibits (input based) | ✘ | ✘ | not defined | series of events over weeks |
| Information | Information Material (online) | Social Media - Social Networks | ✔ | ✔ | unlimited/more | longer/ongoing |
| Collaboration | Displays / Exhibits (interactive) | Displays / Exhibits (interactive) | ✘ | ✘ | | |
| Collaboration | Visualization software | Visualization software | ✘ | ✘ | | |
| Consultation | Consultative Meetings | Community Organizing | ✘ | ✘ | | |